At last! reasonably priced
in Buxton, High Peak, Derbyshire
No need to travel to Stockport or Manchester for first class storage facilities. ASAP Removals and Storage Ltd are on your doorstep!
We pride ourselves on being the best when it comes to helping you store your personal belongings. A genuine family-owned and operated firm, we're totally committed to offering secure self-storage solutions tailored to meet your particular needs.
How to book your storage space
Request a quotation and one of our team will arrange an appointment with you to view the goods and determine the number of containers required. Remember: our quotations are written agreements with NO hidden 'extras' - the price agreed is the price you pay.
You can choose to pack your items yourself (see our range of packing materials) or our expert staff can pack them for you. If doing your own packing it's a good idea to make a list of all items and label each box, bag, carton etc. accordingly. When your furniture and household effects arrive at our premises we'll prepare an inventory in duplicate – one copy for you and one for us.
Access during storage term
You can access your container/s providing you give us 48hrs notice. If there are items you are likely to need sooner than others, please inform us and we'll place them at the front of the container - or dedicate a whole container to them depending on the quantity. That way you won't have to search through your whole container for that Christmas tree or your summer clothes. There's a small handling charge for this service.
Moving into your new home
On the delivery day you'll be asked to check every item off the inventory. This way you can verify that you have everything.
Frequently asked questions
Can I bring my goods into your store myself?
Certainly. You can use a rental van or even another removal company if you prefer. As long as you don't require assistance to unload the van and stow the goods into the container. Otherwise you'll be charged our normal handling fee.
How big are your storage containers?
The volume of each container is a generous 250 cu. ft. — Dimensions: Height: 7ft 6ins; Depth: 7ft; Width 5ft.
Do you subcontract your storage?
No, we don't. Unlike smaller moving companies who have limited space and who sometimes use self-storage companies when they are full, ASAP has ample storage facilities, which you are welcome to visit. The storage contract you sign is strictly between you and ASAP Removals Ltd.
How much notice do you require for redelivery?
We require at least 7 working days notice to guarantee a particular date, especially during the peak periods – e.g. summer and the weeks leading up to Christmas. The more notice you give us the better. That said, we quite understand that property transactions sometimes result in unforeseen delays so, rest assured, we try to remain flexible for you.
Will I have to sign anything?
You will be asked to sign a legal contract; this clearly defines the rights and obligations of both parties.
Storage rates (revised January 2016)
Each container is invoiced at £15 per week (or part thereof) with a minimum charge of 4 weeks. Handling charges may apply if we are not the carrier collecting/delivering the goods.
For long-term storage we offer discounted rates. We also offer clients an alternative to a full container. Please contact us for further information.
Terms and Conditions
There is a minimum charge of one container whether you have just one sofa to store or 50 cartons. If our surveyor, who has visited your residence and calculated the volume of your goods, has quoted you a price you will only get invoiced for the items on the list and the storage containers you were quoted for.
Our rates are 'per month' with a minimum charge of one month. After the first month, if you remove your goods you will only be charged for each day pro-rata. You are required to give seven days notice.
It is your responsibility to insure your goods against flooding, fire and theft. We cannot accept items into storage without you undertaking responsibility for insurance cover. Our insurance policy can be examined at our offices.
You must declare to be the legitimate owner of the items you are storing, declaring that they are not subject to any court proceedings, ownership disputes or outstanding finance agreements. Withdrawal of furniture and other effects can only be made by the holder of the storage contract or an authorized person (in writing), having previously settled all outstanding accounts with ASAP.
Failure to pay our invoice/s in full for six consecutive months will authorize ASAP to terminate the contract and sell the deposited goods in order to make up for the debt and other expenses. For this purpose it will be sufficient to convey the notice of overdue payment by whatever means to the depositor at the address shown in the contract - even if the depositor no longer lives at that address or his/her whereabouts are unknown.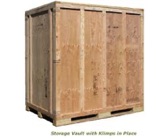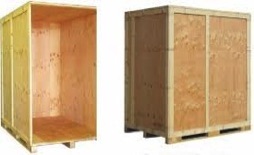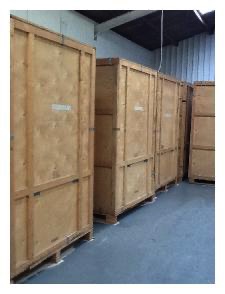 Our sturdy, purpose-built storage containers are clean, dry, and secure. Containers are protected by state-of-the-art security, fire protection and intruder alarms. 
So whether you're moving house or just need somewhere to store archived files for your business, call ASAP today.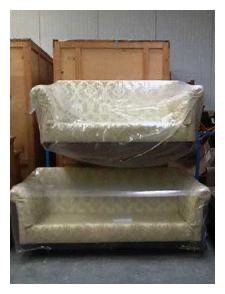 Sofas are stored on stands and covered.